This post may contain affiliate links. If you make a purchase through these links, I will earn a commission at no extra cost to you. Thanks for reading!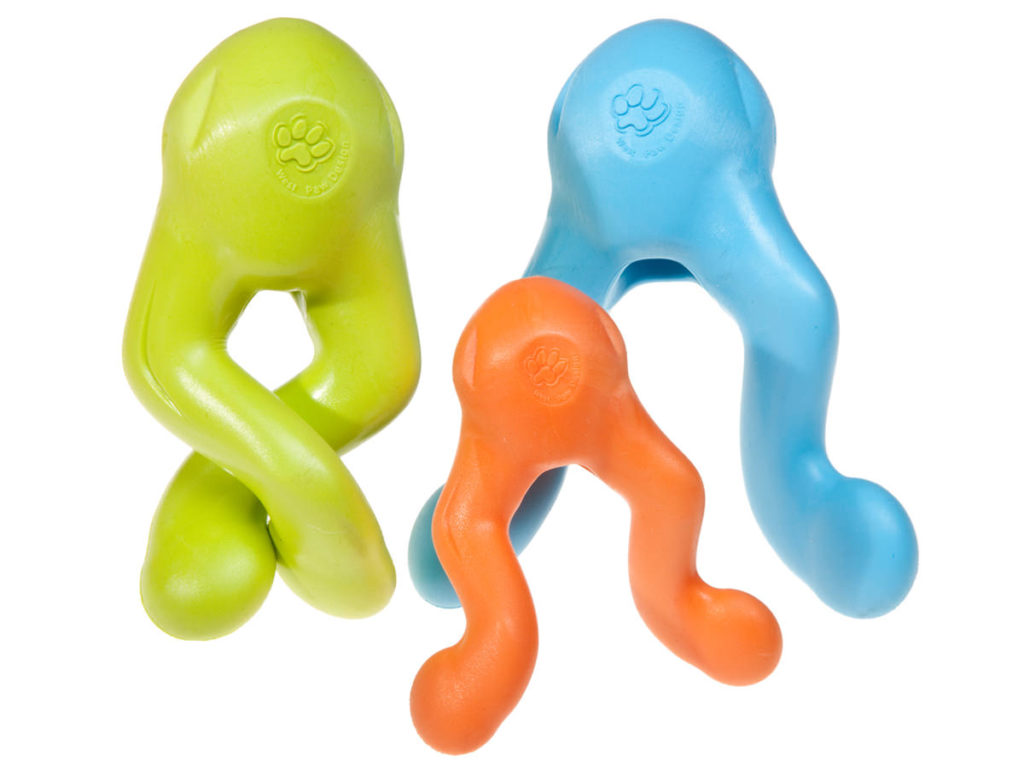 We?re not sure if you have noticed lately, but there?s some interesting shaped dog toys. Despite it all, though, we don?t think any company does it better than West Paw. Looking at their toys, it seems as if they really have a talent for creating toys that keep dogs mentally stimulated during play time. When we first came across the Tizzi by West Paw, we just had to get our paws on it!
An Introduction to Tizzi
The Tizzi is a good toy that comes from West Paw in the line of Zogoflex dog toys. If you?re not familiar with West Paw, Zogoflex is a strong and pliable material that is used to create the dog toys. It is non-toxic, buoyant, washable, and recyclable.
The Tizzi is shaped to look like a pair of legs (at least, that?s how we would describe it). The two ?legs? can be pulled, flexed and twisted ?and we all know how much dogs like doing this. In the center of the toy, there?s even an interesting compartment where you can hide the dogs treats.
The Tizzi is available in 3 colors and 2 different sizes.
Unique Shape
With the unique shape, it?s obvious that there are some interesting play possibilities. You can twist the two legs together or leave them apart when playing with your dog. The Tizzi is a great toy to play fetch with and it will bounce about unpredictably ? dogs seem to love this.
When you twist the legs together, you can throw them in a spiral that reminds us of the popular Nerf Vortex footballs. This technique also helps the treat in the center stay in place. Plus, you?ll have fun watching your dog try to figure out how to get that treat out.
When you separate the legs, the toy makes a great tug-of-war toy.? This toy can even float in the water, which is good news if your dog enjoys playing in the water.

Easy to Clean
The material it is made from (ZogoFlex) makes it easy to clean. If you have ever played with a dog before (and we are sure you have), you would understand that this is a good option because once a dog is done with their toy, it will come back to you all slobbery and if they played with it outside, it?ll have dirt caked on it. Being able to wash it is a major bonus in our book.
Conclusion
If you?re looking for the type of toy that will keep your dog interested for a long period of time, then the Tizzi would be a great option. There is so much positive feedback on Amazon, making it obvious that dogs really do love this toy ?plus, we cannot forget about the durability – there?s probably a reason people have included it on their list of the most durable toys on the market. The Tizzi is an amazing toy with a combination of durability and fun all packed in one.?Check out also this cool Dog PlayPen Exercise Pen for your furry friend.
CHECK THE CURRENT PRICE AT AMAZON