This post may contain affiliate links. If you make a purchase through these links, I will earn a commission at no extra cost to you. Thanks for reading!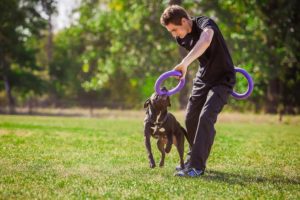 If you have a dog, chances are, you already realize that he is a part of your family. This special family member just so happens to love playing, but we?re sure you have already noticed this ? you may even have a toy box full of toys for your dog. What about the Puller dog toy ? does this sound familiar to you? When we spoke to? friend of ours the other day (he?s a major dog enthusiast), we couldn?t believe that he had never heard of the Puller dog toy and that is when we decided to spread the word (because it?s such a cool toy, we believe others should know about it) ?
What is the Puller?
The Puller is made of 2 durable, yet soft rings that are made of unique material (the material is non-toxic, resilient and tough, but on the same note, it?s also really gentle on teeth). The Puller is naturally buoyant due to its lightweight, making it perfect for using in the water.
Puller is available in 2 sizes. The mini size is 7.5 inches in diameter, while the standard size is 11 inches in diameter.
The Design
The design is really unique and is design with a dog?s well-being and health in mind. At first glance, it appears to be a normal dog toy, but in all actuality, there are more functions to it that just an exercise toy. Exercise is important for our dog as it helps keep them both physically and mentally fit.
Puller recommends the following activities with this toy:
Jumping ? Basically, you hold a Puller in each hand without releasing. One Puller is held out for the dog to jump up and grab. After a release command, you hold the other Puller out to be grabbed. You repeat this process over and over. This helps your dog get his exercise while learning.
Running ? The nice round shape of the toy makes it perfect for rolling and throwing outside. If you have a dog that loves a game of fetch, then he?s going to love this toy. When the dog returns back to you with the toy, you can take the second Puller and toss it again ? this is a constant motion and in our opinion is much better than the normal ?toss-fetch-retrieve-drop-wait-fetch? cycle. This keeps your dog on a nice pace for a longer period of time, which comes in handy if you have limited space.
Pulling ? This involves the old fashioned game of tug of war ?what dog doesn?t enjoy playing tug of war? Our dog seemed to really enjoy that gentle ?squish? of the Puller and what we really like about it was the fact that we didn?t have to worry about it damaging his teeth. Tug of war is a nice exercise for dogs and it helps them work their important muscle groups.

Different Ways to Use the Puller
When it comes to using the Puller, there are so many different ways that your dog can use it, which will help keep your dog mentally stimulated for a longer period of time.? The Puller can be used inside, outside, in the water or wherever you feel is safe.
Conclusion
Active dogs need active toys! The Puller is designed from unique material that is capable of standing up to pulling and biting, which is why it has been labeled one of the toughest dog toys on the blog. It isn?t a chew toy, so when you?re done playing with it, you should put it up. If you?re looking for a good toy to play with with your dog, then this would be a suitable option.
CHECK THE CURRENT PRICE AT AMAZON