This post may contain affiliate links. If you make a purchase through these links, I will earn a commission at no extra cost to you. Thanks for reading!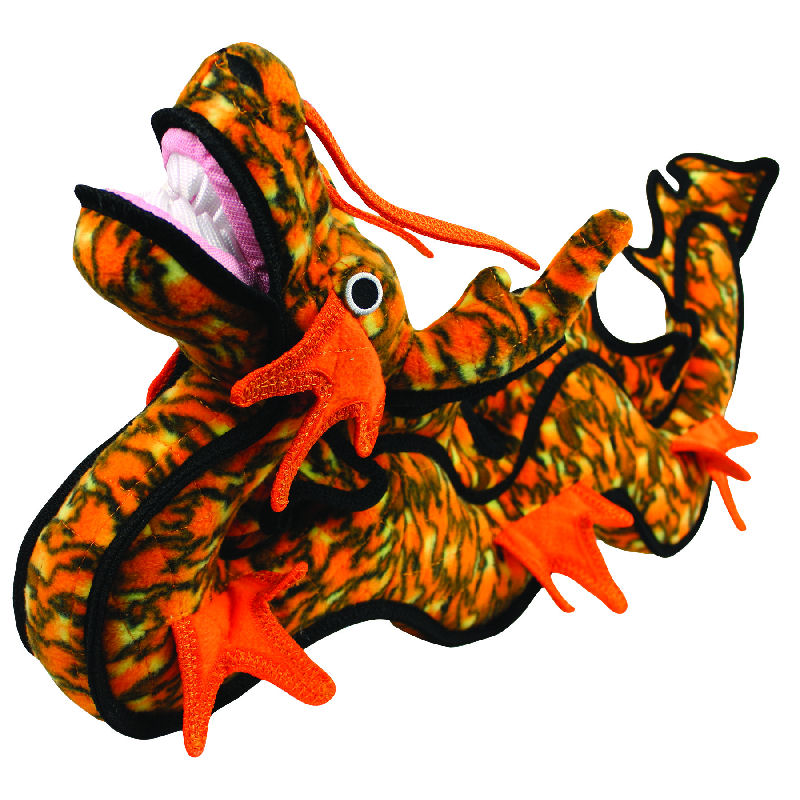 When our dog is happy, that makes us happy. Finding the best toy for your four legged friend is an important task that you should really think about. The right toy can entertain, comfort and even train your dog, but on the same note, it is important that you have their safety in mind as well. Choosing size-appropriate toys will help keep your doggy happy and healthy. Speaking in toys, did you see the Tuffy Dragon toy? We believe this may be something that your dog will be interested in, especially if he/she likes to chew on things ?
Does Not Contain a Squeaker
Mind you, this toy does not contain a squeaker, but that isn?t necessarily a bad thing, is it? The reason it doesn?t contain any squeakers is because it?s too thick, so your dog wouldn?t even be able to make them squeak if there were any. Many people like the fact that it doesn?t contain a squeaker, because then they don?t have to worry about their dog ripping the toy apart and chewing on the squeaker itself (as if they would be able to rip this one apart as it is).
Washable
This is the type of toy you cannot go wrong with. It?s washable and a great way to bring your dog back to reality.
Great for Indoors and Outdoors
The Tuffy Dragon is great for both indoors and outdoors. It?s durable, with soft edges, so it?s not going to hurt your furry friend?s gums. Regardless, the good news is the fact that your dog isn?t going to grow tired of this amazing new toy.
Large in Size
Yes, the toys are big in size, so it may not be suitable for a small dog like a Yorkie. However, a big dog, like a pit bull, German Shepherd or even a Labrador may love this toy.
Toughest Soft Dog Toy Available
The company has labeled this the ?tuffest? soft dog toy currently available and there are many people that would agree with this. There are customers that have purchased this toy for their dog because they got tired of their furry friend tearing up every toy they got them. This toy contains up to four layers of material ? material that is bonded and sewn multiple times in order to make one large ?tuff? layer ? this is why dogs find it a challenge to chew up (it?s merely impossible to break). For added durability, the fleece on the outside of the toy has been cross-stitched (that?s good news).
Use in the Water
If you have the type of dog that loves the water (our dog loves swimming), then you?ll love how this can be tossed in the water without having to worry about it. We were happy when we discovered this toy actually floats, then when you?re done, you can machine wash it, then air dry it.
Conclusion
If you have a dog that is destructive and loves chewing his/her toys up, then we highly recommend this one right here. With the Tuffy Dragon, your dog will find it challenging as they try to rip into it, only to discover they?re not able to ? this toy will keep your dog occupied for days.
CHECK THE CURRENT PRICE AT AMAZON