This post may contain affiliate links. If you make a purchase through these links, I will earn a commission at no extra cost to you. Thanks for reading!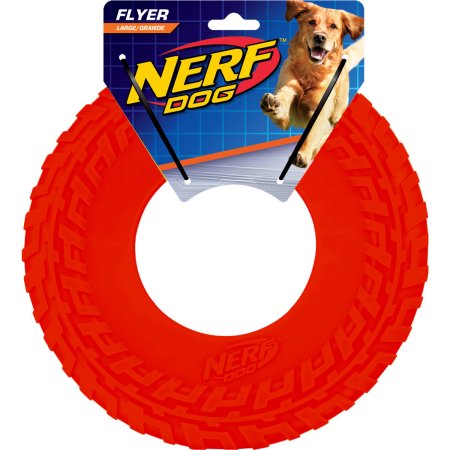 As a child, do you recall Nerf? They made some of our favorite toys back then, so when we saw the name ?Nerf? pop up on dog toys, it immediately captured our attention. In this case, we are talking about the Nerf Dog Flyer, which dogs (especially those that love playing fetch) seem to really love.
Apart from the name being ?Nerd,? what really made this toy stand out was the fact that it seemed extra durable and the design looked simple.
The Material
Since it is made by Nerf, it?s safe to expect the toy to be made out of tough material. This flyer is made of a thermoplastic rubber and you will have a variety of different colors to choose from. In this review, we went for the large orange disc (it?s 10 inches in diameter). The Frisbee is about .25 thick and it is able to retain its shape under normal circumstances, but at the same time, it is flexible enough so that you can easily bend it.
The Pattern
The disc has a pattern that is uniquely cut, making for an interesting flight pattern. The cut pattern also makes it easy for your dog to carry in his mouth.
Great for Long Range
If your dog loves to run, then distance is important when it comes to a Frisbee. The range of the Nerf dog Frisbee is astonishing and will depend on how hard you throw it. The disc can travel far. In fact, we don?t recall ever seeing a Frisbee that could be tossed as far as this one. This gives the opportunity for your dog to really get up on their speed while they?re fetching the disc. This disc, however, doesn?t have a lot of hang time like some of the other lighter weight discs, so it?s not exactly designed to be caught in the air, but your dog probably won?t mind this.
Durable
If a dog really loves a toy, it?s only a matter of time before the toy starts to show appearance of being loved. There are some canvas material discs on the market and those are quite nice, but after some time, they start to fray. The Nerf Flyer is made of flexible plastic, which stands up well to those teeth.

Floats
We must also mention the fact that this toy is capable of floating. So, if your dog loves the water, this would be the toy to use.
Easy to Clean
The rubber doesn?t collect as much dirt as you?d expect and when it does, it can easily be wiped down. We love the idea of being able to clean it, because these type of toys have a habit of becoming dirty and slobbery.
Conclusion
It is pretty safe to assume that if your dog enjoys playing fetch and has a thing for Frisbees, he would love this Nerf dog flyer. The Nerf Frisbee is super easy for your dog to pick up and at the end of the day, it?s super easy to clean.? The prolonged flight path is another major bonus as it allows your dog the opportunity to really get up and burn off some of that extra doggy energy.?To add more fun for you and your dog's play-date, check out this Snoozer Bike Basket.
CHECK THE CURRENT PRICE AT AMAZON