Bissell BarkBath Portable Dog Bath System
|
This post may contain affiliate links. If you make a purchase through these links, I will earn a commission at no extra cost to you. Thanks for reading!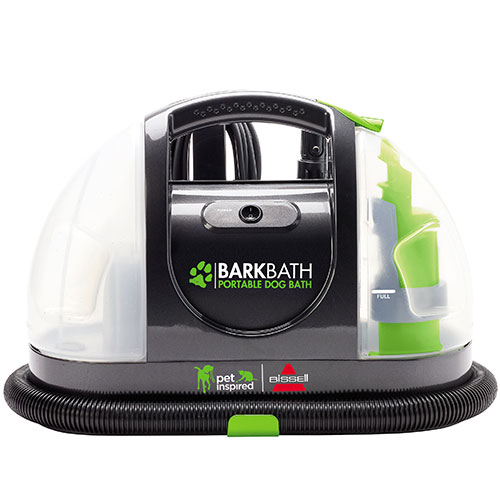 Have you ever bathed your dog? If you own a dog, surely you are familiar with the routine of giving your dog a bath. Some dogs love bath time, while other dogs run and hide at the mere mention of the word ?bath.? Regardless of who you are, whether your dog loves water or not, there?s a new tool in town ? a tool that will make bath time much easier on you and it?s called the BarkBath Portable Dog Bath System by Bissell (a popular brand that sells vacuums).
Next Generation of Dog-Bathing
The Bissell Barkbath Portable Dog Bath System is the next generation of dog-bathing. No longer do you have to put old Fido in the tub in order to give him a bath. This system offers an easier, faster and less messy way for you to bathe your four-legged best friend. With this portable bathing system, you will be able to bathe your dog almost anywhere with no mess afterwards. The nozzles have been specifically designed in order to get under the dogs fur, right down to the skin in order to allow water and
shampoo to wash the skin clean. There?s a soft suction that pulls the dirt and water from the dog.
With the Bissell BarkBath Portable Dog Bath System, you can easily clean your dog.? This is a nice all-in-one system that uses up to 50 times less water than you would use if you were to bathe your dog in the tub, so you?ll be doing your part on saving water. This system only uses 48 ounces of water and works just as good as it would work if you were using your tub.

Pros
Portable
This dog bath system is 100% portable. So, you can use it wherever you choose.
Built-in Nozzles
The system has built-in nozzles. The nozzles do a great job at getting in and around all fur types for a nice clean.
Stores Dirt
What is even more interesting about this system would be the fact that it stores dirt in a separate tank. When you are done giving your dog a bath, to clean the system, all you have to do is empty the tank and you?ll be good to go.
Clever Accessories
We cannot forget the fact that this system comes with some interesting accessories. These accessories include a storage bag, a microfiber mat and clothes for sensitive areas like the paws and face.
No Chemicals
What really makes this system stand out from the crowd would be the fact that it doesn?t contain any chemicals and is pH balanced. The light mulberry scent will leave your dog smelling amazing (nothing like a wet dog) after the bath is over.
Save Water
With this system, you can clean an 80+ pound dog with no more than 48 ounces of water. If you were to bath the dog in the tub, you could end up using up to 19 gallons of water. So, yes, with this system, you will definitely be saving water.
Special note: If your dog is afraid of the sound of a vacuum, then this may not be a good idea as sound/noise is emitted from this bath system and it is similar to the sound of a vacuum.? In the user guide, you will find training steps that will help your dog get used to the noise.
Conclusion
Clean an 80+ pound dog, dirty water is stored in a tank, portable, easy to use, leaves your dog smelling nice, nozzles designed to get beneath the fur and it saves water ?those are all good reasons to buy this product. Need we say more?
Check The Current Price on Amazon