Merry Products Wood Pet Home
|
This post may contain affiliate links. If you make a purchase through these links, I will earn a commission at no extra cost to you. Thanks for reading!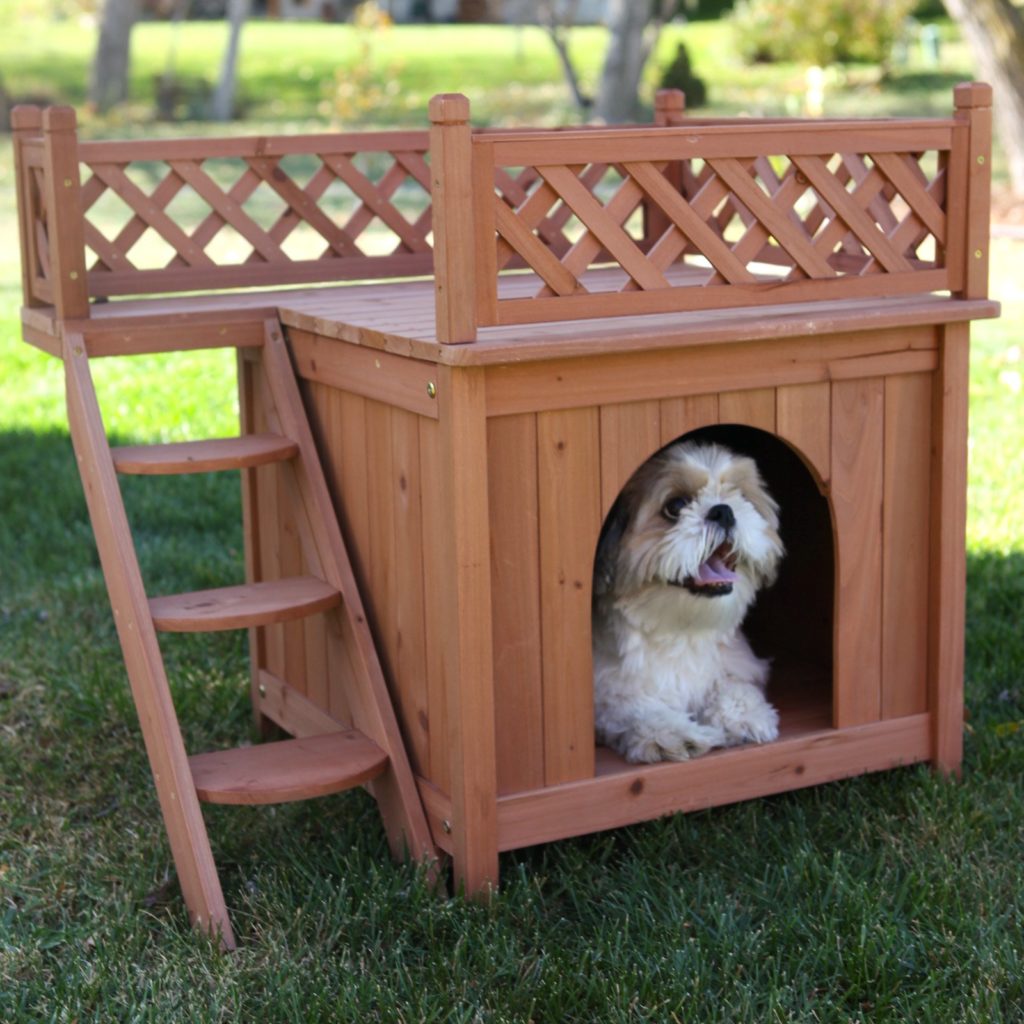 In this day and age, who doesn?t have a dog? Dog make excellent companions for both the young and the old. Looking at all of the dog products currently on the market, we are surprised with all of the different toys, styles of dog houses and products aimed specifically towards canine lovers ? in the past, growing up, we don?t remember seeing this much stuff for Rover! While there are plenty of neat toys, today, we decided to take a look at all of the dog houses (we were curious) and that?s when we stumbled across Merry Products Wood Pet Home. We liked it so much that we decided we just had to do a review on it and here we are ?
What is Merry Products Wood Pet Home?
Merry Products Wood Pet Home is an indoor/outdoor structure that has been designed for smaller dogs ? it?s great for Chihuahuas, terriers, etc..
What?s Included with the Structure?
With this structure, you get a beautiful balcony, a main house and stairs. The stairs make it so that your little dog can climb up on the balcony. It really is pretty cool watching the dog sit on the balcony.
Measurements
Interior: 17.3? x 17.3? x 15.4?.
Exterior: 28.5? x 21.8? x 24.5?.
Door: 9.3? x 11.3?.
Pros
Easy to Assemble
When we read that this structure was easy to assemble, we couldn?t believe it, because most structures like this aren?t easy to put together. However, there are many reviews stating how quick and easy assembly is, so as far as the assembly process goes, it?s safe to say you shouldn?t have any issues
Durable Construction
This product is light in weight, but that is okay, because it?s built with small dogs in mind. If it were built for large dogs, then it would need to have some weight to it. Since it is light in weight, you can easily move it around when you feel the need to do so. Moving it around won?t destroy it due to the durable construction.
Material
This house has been put together with kiln-dried wood that has been treated with natural stains. The natural stains are there in order to enhance the appearance and improve the durability.
The Lower Lounge Area
If you look on the lower lounge area, you?re going to find a raised bottom. This is great if you plan on keeping the structure outside, so your dog can snooze on it when he wants to be out and about. The raised bottom will ensure that the pet stays dry.
Looks Great
We cannot forget the fact that this wood pet home looks nice. It?s a comfortable house with a beautiful lattice fence and stained brown cedar color ? if you place this on the deck of your home, it?ll look even better. The steps that are running alongside the house lead up to the roof-top balcony where your four-legged friend can sit and bathe in the sun.
Conclusion
Not only can you use it outside, but it will also look good inside. The construction is light in weight, easy to handle and it even has a nice calming scent to it. The pet house comes with instructions, which are easy to follow. There?s even knock-down panels and a removable roof so you can easily clean it. If you have a small dog, regardless of who you are, you may want to buy this room with a view pet house.
CHECK THE CURRENT PRICE AT AMAZON